The National Fire Protection Association recommends inspecting fire sprinklers quite frequently.  However, for those who opt to inspect at the lesser frequency we suggest that the Spring season is the right time.  Here, we review why Spring is an excellent time to conduct a rigorous review of your home or small business's fire protection structures.  Since the winter freezes have thawed, there are several repair problems that need to be addressed during the warm spring months.  Generally, Temperatures changes influence metal and plastic materials, such as fire sprinkler systems.  If the water stored inside the system expands and contracts during the cold winter months, any flaw that was previously undetectable will become troublesome.  A small leak will quickly escalate into something far more dangerous, jeopardizing the fire suppression system's ability to function properly.
Can Fire Sprinklers be inspected on a Regular Basis?
A qualified professional can inspect the fire sprinkler systems on a regular basis.  Certain elements of the system need to be inspected or checked at various times, including 5-year, 2-year, yearly, semi-annual, quarterly, monthly, and weekly, depending on the type of system.  Sprinkler systems are made up of a variety of components, including switches, gauges, and pipes.   These components need to be inspected at regular intervals to ensure that they all fit for purpose.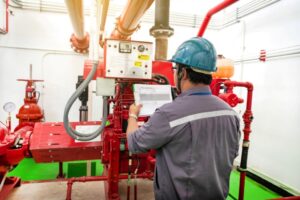 The following are the recommended inspection periods for various sprinkler system components:
Weekly/Monthly
Since the gauges are such an important part of any sprinkler system, it needs to be checked at least once a week in dry, pre-action, and deluge systems to ensure they are in good working order.  The wet pipe gauges will go for a month without needing to be checked again.
Quarterly
More thorough checks, including water flow warning devices, valve alarm devices, control valves, signal devices, hydraulic nameplates, and fire department connections, are required every three months.
Annually
Once a year, get a full fire sprinkler inspection and physical evaluation to be conducted on all components, including water distribution checks, fire pump tests, warning tests, and in some cases, antifreeze concentration tests.  Trip checks are also needed for dry pipe, pre-action, and deluge valves.
Every Five Years
Every five years, systems in high temperatures and harsh conditions, as well as gauges for all kinds of sprinkler systems, are to be checked.  It's possible that replacements will be needed.  It is recommended that all internal sprinkler system pipework are carefully checked for any blockages, and services as required.
Every Ten Years or beyond
Find out how much and about when the older machine can be inspected by contacting a fire sprinkler repair and maintenance firm.
Inspect when in Doubt!
Sometimes purchasing a house that has undergone repairs or design modifications may need a fire sprinkler system inspected.  If there is a question about the design modification or repairs about the sprinkler system, it is better to get inspected.  If the building's water supply has changed, the fire sprinkler system must be tested more regularly.
Importance of Fire Sprinkler Inspections
To ensure good operations, the commercial fire sprinkler system, likely any other mechanical system needs skilled care, repair, inspection, and monitoring.  Checking the charges on all of the fire protection equipment ensures that it can function correctly in an emergency; remember that automatic fire sprinkler systems need to be checked on a daily basis.  A certified fire protection technician must audit the fire sprinkler systems periodically, annually, and every five years and ten years, as well as to conduct system servicing, monitoring, and repairs.
It's a good idea to keep track of critical fire sprinkler inspections and checks, particularly because schedules can differ based on the form of inspection or service required.  If your home or business fire protection system is in California and requires installation, equipment upgrades, servicing, or safety inspection, American Fire Inc., is here to help you.  Make an appointment with us today!