A typical building in Los Angeles receives water supply from the county's Waterworks Districts (LACWD), which supplies all of its water needs, including the fire sprinkler system installed. Backflow occurs when water moves in the wrong direction and flows into your water supply instead of out of it. A check valve device like a backflow preventer keeps the water in the fire protection system and ensures that it only flows in one direction from the water line into the system. However, if a preventive device is not installed or if used incorrectly, backwater can occur, reversing the flow of water. These types of situations are dangerous since such standing water results in fouling the plumbing systems and contaminating the water supply system.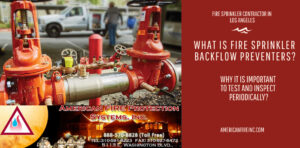 Thus, periodical inspection of backflow preventers is vital and fire protection companies are a good option at this stage.  American Fire Protection Systems in Los Angeles offer timed inspections of the sprinkler systems and backflow preventers.
What is a backflow preventer?
A check valve is a device that keeps the water in the sprinkler system and ensures that water flows in one direction to the fire sprinkler system.  It resembles a hose bib on your garden hose. In fact, there is a mini check valve in the nozzle that allows the water to squirt out the sides instead of shooting down the fountain. The check valve in commercial buildings is a tool for utility departments to ensure water stays safe and pure.
Two Important Reasons to Test and Inspect Your Backflow Preventer
Inspection of backflow preventers is an annual mandate from the State of California. The absence of such periodical testing, certifying and repairing your backflow prevention results in non-compliance with State Laws.  Further, it puts you and your neighbors at serious risk of water pollution.
There are chances that the municipal utility can shut off the building's water supply or just your home's water supply (everything except sprinkler systems) if the backflow is not working properly or if you have missed an annual inspection and maintenance. It means that the toilets, sinks, and showers will not work, although in the situation of fire the sprinklers will continue to work to keep you safe.
By relying on fire protection companies to test and inspect the backflow preventer, rest assured that you will have ensured maximum safety for your occupants and avoid hefty fines.
If you have questions, need an annual inspection, or think there is a problem with your backflow preventer or other aspects of your building's fire sprinkler system in Los Angeles, call American Fire Sprinkler experts through our online contact form. You can also directly call us to speak with one of our representatives.
Toll-Free: (888) 570-8828
Local Tel : (310) 591-8223
Email: simon@americanfireinc.com