A Fire sprinkler system is one of the most effective methods to save lives and protect property when a fire occurs.  As you know, fires can cause irreparable damage to buildings and homes.  Once the blaze has been ignited, Fire Fighters can do very little.  For this reason, a properly functioning fire protection system is an important precautionary method for any kind of residential and commercial building.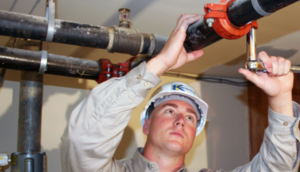 Benefits of Fire Sprinklers Systems
Decrease in mortality rate:  You can better protect property as well as human life by installing a fire sprinkler system  along with smoke detectors.  Fire-related deaths can be reduced up to 80% when a building is installed with a fire protection system.
Reduce financial burden:  The cost of repairing structural damage, after a fire, is significantly more expensive than simply installing a fire sprinkler system.  Sprinklers are a cost-effective method to protect property and human life, compared to the damage the fire can cause.  Fire sprinkler systems cost less than 1% of the total building costs, making it a wise choice for residential and commercial properties.
Low Maintenance: Residential Fire sprinklers need little maintenance and usually continue to operate effectively for decades. It is recommended that you have a qualified fire sprinkler contractor preform annual inspections for commercial properties and 5 year inspections for residential properties. American Fire Protection System Inc. is considered the #1 fire protection contractor in Los Angeles, specializing in the installation, maintenance, inspection, and repair of fire sprinkler systems, for both residential and commercial projects.
Reduce your Insurance cost:  Insurance companies will give lower rates for buildings and homes that have a fire protection system.  When you have sprinklers installed in  your building, the insurance premiums can be reduced by up to 15%.
Increase Your Property's Value: Although, there might be an upfront cost to install a fire sprinkler system, it will add value when selling your property.  American Fire Protection System Inc. has over 100 years of combined experience and is an industry leader for residential and commercial buildings in and around Los Angeles, California.  The company offers deign, consulting, installation, maintenance and inspection. Contact us for free estimates for all your residential and commercial properties. Click here to contact us. https://www.americanfireinc.com/contactus.shtml