A fire protection system is without a doubt the most essential life safety system for commercial buildings. To protect your property and workers, it is essential to keep all inspections up to date and to update fire protection systems using cutting-edge technology. When it comes to fire safety management, it is critical to be proactive and prepared, since these are the most effective methods of fire prevention. This simply implies that we won't have to wait till the fire sprinkler system fails to upgrade it.
Installing a fire sprinkler system is the most reliable, solid, and efficient method of fire safety protection, but for it to fulfill its objective it is important to ensure that these systems are functioning properly. Therefore, Regular checkups are required, Fire sprinkler systems are seldom in need of replacement. However, Upgrades, on the other hand, are desperately required to ensure that the fire protection system is capable of safeguarding people's lives products, and property in the event of an emergency.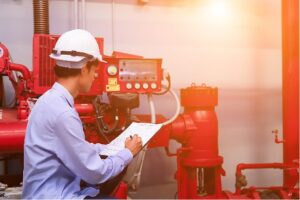 Check out the four signs mentioned below that suggest that it is time to upgrade your existing fire protection system to meet current standards.
Incompatibility with the system
Your fire prevention system becomes a bit older and less effective with each passing year. Consequently, it lacks the most recent features and advanced technology that can be found in modern systems. As a consequence, certain complex components may become incompatible with one another, necessitating an upgrade of the system in order to restore fire safety. Older systems may actually cause more damage, sometimes even more than fire. This is because of either the old systems' inability to detect the intensity of the fire or, if the fire spreads quickly, their inability to douse the flames.
Renovations in building
To remain code compliant, your fire protection system may need to be expanded or modified to accommodate additional elevators, floors, or wings. The amount of people that inhabit the building determines the kind of fire protection equipment that should be installed. So, whether your business is growing or shrinking, make sure you have adequate fire extinguishers, fire sprinklers, and fire alarms in the building.
Frequent breakdowns
The best course of action when fire suppression equipment malfunctions are to have a professional inspect and repair the damage. Further, If having to bring in a professional on a frequent basis, it's time to replace the system and save money on future maintenance costs. Aside from that, regular visits from a fire protection company are a source of disruption for business activities.
Installation aging
The typical lifespan of a fire protection system is 12 to 15 years. Following that, the system may begin to malfunction more frequently, and replacement components may become unavailable. When a crucial component breaks, you must repair or replace it as quickly as possible to ensure the structure's safety and compliance with building codes.
Few points for a successful upgrade
Determine whether or not the changes you are contemplating will meet your facility's fire prevention goals before contacting fire sprinkler contractors. If nothing is done, it will be a total waste of both time and money. A modernized fire prevention system should fulfill the following functions:
The type of facility and the ownership of the facility are among the factors that will influence the code and insurance requirements for the building. However, there are instances when it is necessary. Consider going above and beyond code standards wherever feasible in order to achieve the other fire prevention goals of the company more efficiently.
Evaluation of the existing fire system
In order to conduct a fire system evaluation, an on-site walk is needed. This enables the fire protection engineer to visually identify the existing system and its components. This is particularly essential in older buildings where extensions have been made over time and previous fire system upgrades have not been done in a coordinated manner.
The components you install should give adequate notice for residents to be able to escape in a reasonable amount of time. For example, contemporary smoke and heat detectors should be used in conjunction with audible and visual warning systems.
Contact American Fire Protection Systems, Inc. if you need a new fire sprinkler system or an upgrade to an existing fire sprinkler system. In Los Angeles, California, we have almost a century of expertise delivering superior fire protection system servicing.