A fire protection system is an essential component of every building, whether it is a commercial, hospital, residential, or educational facility. Fire safety is essential for protecting the business from fire hazards and is one of the most significant things required for financial and personnel safety. Fire hazardous cause catastrophic damage, resulting in business downtime to costly repairs. Investing in a fire protection system is the best approach to safeguard the infrastructure from fire, limit possible damage to the structure and its content, and keep people safe. The condition is also true for all residential, hospitals, and educational facilities with little modifications.
When it comes to fire safety systems, there are two primary categories: active and passive. An active system is a suppression technique; it is concerned with detecting, stopping, and escaping fire whereas the passive system is a containing approach.  It is more about confining the fire and preventing it from spreading further.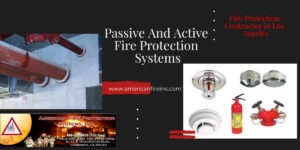 ACTIVE FIRE PROTECTION SYSTEM
Active fire protection requires some form of action to make it functional, which indicates that the system needs a trigger or fire to begin before it acts. This fire-fighting action can be manual, such as extinguishing flames with a fire extinguisher, or automatic, such as the residential fire sprinkler system extinguishing flames. Active fire protection is triggered by some kind of alert or signal. The action will aid in controlling, suppressing, or extinguishing a fire that has already started. Active fire protection systems are comprised of two important components: a fire alarm system and a fire suppression system. These systems will begin a reaction in response to the detection of a signal, such as notifying the fire department, activating sprinklers, or closing fire doors.
Active fire protection products are classified into three categories: detection, suppression, and ventilations. Among the products are the following:
Fire Alarm Systems: Properly maintained alarm systems are meant to detect fires early and provide time to take all the necessary precautional steps.
Emergency Escape Lighting: It is necessary for the event of power failure, which is very likely to happen during a fire accident and this should be trigged automatically.
Fire Sprinkler Systems and Suppression Systems: These are devices that use CO2, inert gases, foam, or water spray to extinguish fires.
Smoke Ventilation: It includes automated vents – enable smoke to escape from a building while maintaining a smoke-free hallway and staircase.
Refuge Zones for Handicapped Persons: Critical for supporting disabled individuals or those with reduced mobility in the case of an emergency.
Emergency Voice Communication Systems (EVCS): It is a secure, bidirectional duplex voice communication system designed to aid the fire department in a high-rise or large buildings.
Dry and Wet Risers: These are valves and piping that allow the fire department to pump water to particular levels in multi-story structures.
Public Address Voice Alarms: Also referred to as a 'Tannoy' or PA system, these systems are used to broadcast pre-recorded messages during an evacuation or in the case of an emergency.
Portable Fire Extinguishers: Several kinds of fire extinguishers are available for use on various sorts of fires. Training is essential to learn how to correctly utilize fire extinguishers.
PASSIVE FIRE PROTECTION
Passive Fire protection is sometimes disregarded, despite the fact that it is a key component of fire protection.  Regardless of its name, it is constantly operational. Passive Fire Protection is a set of components that are used to compartmentalize a building in order to prevent a fire from spreading. These components function automatically and do not need any trigger. The passive fire protection system is often built into structures. Passive fire protection works by keeping fire, heat, and smoke in a single compartment at the region of origin, safeguarding escape routes and giving important escape time for inhabitants, protecting key structural parts of a structure, and preserving a building's assets.
Internal Fire Doors: An internal fire door may impede the spread of fire or smoke throughout a structure, giving more time for escape.
Compartmentation and Fire Stopping: Guarantees that walls, floors, and ceilings have continuous fire resistance to help limit the size and spread of a fire.
Fire Curtains: These are safe, inconspicuous, and cost-effective alternatives to fire doors that help prevent a fire from spreading.
Fire and Smoke Dampers: Located where ducts from the heating, ventilation, or air conditioning system travel through walls or floors and may assist prevent the spread of a fire, albeit they may be actuated by an active system, such as a fire and smoke damper connected to the main fire alarm system.
Nothing is more critical than your family's or workplace's safety, but it's easy to take it for granted. It goes without saying that the effects of a fire may be catastrophic, and it's reasonable to want to safeguard ourselves and our hard-earned goods. Active and passive protection systems are neither comparable nor competitive. . This is because the means might be different, but the end is the same.  Both Active and Passive Fire Protection Systems provide distinct but critical functions in safeguarding buildings, their contents, and people. Passive fire protection supports active fire prevention measures such as fire sprinkler systems, suppression systems, and extinguishers, as well as fire safety education for building occupants.
American Fire Protection Systems Inc. is a pioneer in Residential Fire Sprinklers Installation in Los Angeles with experience of more than 100 years in the industry. As a Fire Protection Company in Los Angeles, we undertake all types of fire safety contracts such as fire sprinkler installation, maintenance, inspection, 3D Design, and more. To know more about us, visit https://americanfireinc.com.