Residential fire sprinklers that are professionally installed and maintained may significantly reduce the amount of heat, flames and smoke produced by a fire, eventually saving lives as well as property and money in the event of a fire. Typically, a residential fire sprinkler system is composed of a number of sprinkler heads that are joined together by water pipes. For powering the system, a reliable water source, such as a cistern or a public water supply, is necessary.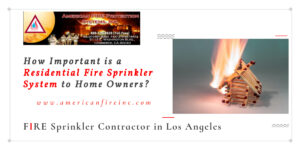 Residential Fire Sprinklers Importance :
Automatic sprinklers are important components of complete system designs for fire prevention in buildings because they are extremely effective and reliable.
The civilian death rate was 81% lower, in residences with fire sprinklers than in those without them.
The Average firefighters' injury rate was roughly 80% lower when fire sprinklers were present during fires.
The death rate from residential fires was reduced by 90%. when fire sprinklers and hardwired smoke alarms were installed.
The Fires were kept to the room of origin 97% of the time, in the presence of a fire sprinkler.
Types of Residential Fire Sprinklers:
The two most common types of residential sprinkler systems are stand-alone sprinkler systems and multi-use sprinkler systems. Both systems make use of the water supply supplied by the home. A stand-alone system has its own set of pipes and may be required to include a backflow device. The tubing will be flexible plastic or copper in the case of stand-alone systems. The installation of a storage tank and pump is essential in order to ensure that the water supply system has adequate water in case of a fire.
In Multi-use sprinklers,  the plumbing pipes are shared; whenever water is turned on anyplace in the house, freshwater is circulated through the pipes. This mechanism guarantees that non-stagnant water will be released in the case of a fire.
Advantages of Residential Fire Sprinklers Systems
Their spray pattern is designed exclusively for residential hazards. Unlike light-hazard office spaces, restaurant dining areas, meeting rooms, or lobbies
Residential-style sprinklers, unlike standard-spray fire sprinklers, direct more water to where it is needed-along and up the edges of the room
Residential fire sprinklers are also quick to respond, with the goal of fighting fires in their early stages
Residential sprinklers have a hydraulic kickback that makes hydraulic calculations for a residential area easier
Sprinklers are temperature-sensitive, and they are configured to activate when a portion of your home hits 135 to 165 degrees Fahrenheit
 Residential Fire Sprinkler Maintenance
The National Fire Protection Association's (NFPA) first piece of advice is that the installation should provide each household with "guidelines for inspecting, testing, and maintaining the system. "Collisions with fire sprinkler heads on a small scale may result in malfunctions and even a deluge. If a sprinkler head is damaged, it should be repaired immediately. Replace the damaged sprinkler with the exact same model.  The National Fire Protection Association (NFPA) provides comprehensive rules for inspecting, testing, and maintaining water-based systems. Several of the actions necessary to maintain your system in accordance with the recommendations include the following:
Test valves
Test the flow and pressure of water
Flush the system
Conduct an internal piping assessment
Conduct a risk assessment
Fire Sprinkler Systems installed in residential buildings have been proved to save lives and property in the case of a house fire. Installing a sprinkler system is surprisingly affordable. If you need installation, equipment upgrades, service, or a safety inspection for your residential fire protection system in Los Angeles, California, American Fire Inc. is here to serve you. Make an appointment with us today! https://americanfireinc.com/